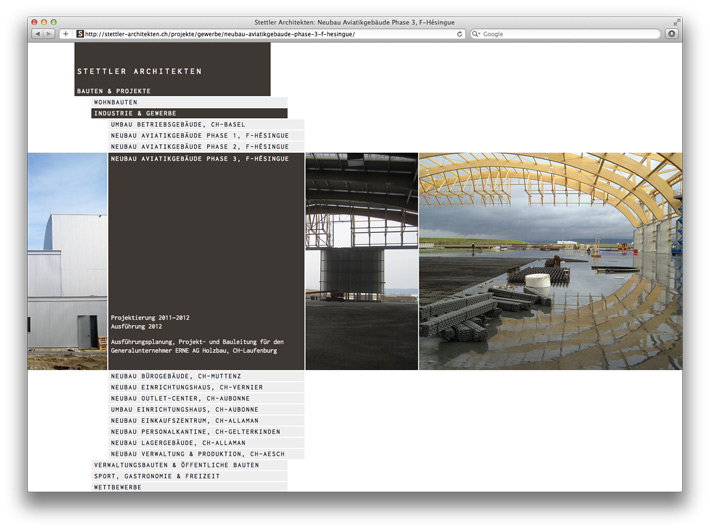 stettler-architekten.ch Website for the Basel-based architecture firm of Martin Stettler. Inspired by Martin Stettler's architecture the layout aims to be angular and functional but does not shun clear contrasts and a conscious graphical presence. Text content is fused right into the main navigation, with corresponding images moving perpendicular to the latter. I have provided site design as well as development (based on ProcessWire CMS). Type is Inconsolata via TypeKit.
---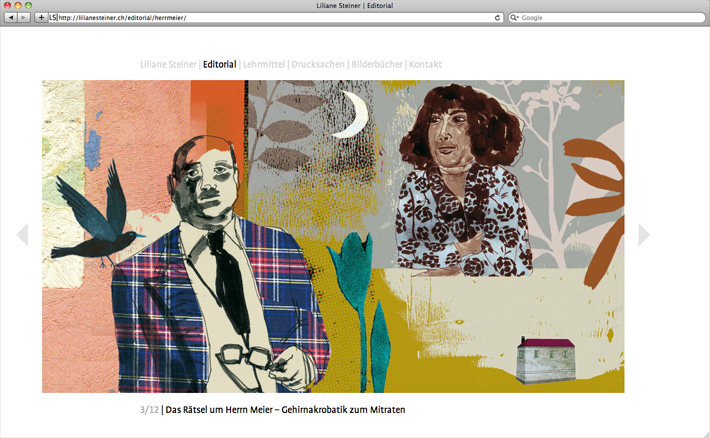 lilianesteiner.ch The new portfolio website of illustrator Liliane Steiner focuses on her images. With a flat site structure, easy navigation and simple but warm typography (using the lovely FF Profile) the platform is minimal but not devoid of friendly warmth. I have consulted with Liliane on the layout, worked out the details and typography, and built the site using ProcessWire CMS.
---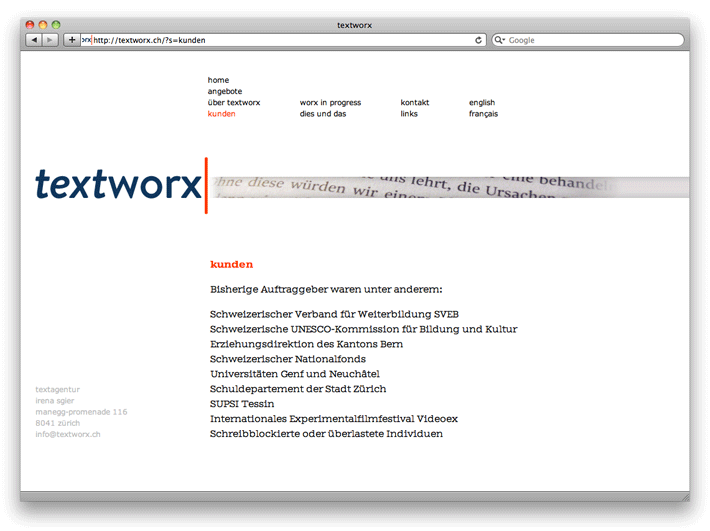 textworx.ch, website for Irena Sgier's Zurich-based text agency Textworx, online since November, 2011. The design is calm and minimal with a focus on clear and rigid (but by no means unfriendly) typography. The site informs about the agency's business proposals while the author also shares more personal views on the Swiss culture scene in a couple of blog-like sections. Webfonts: Giza RE from Webtype; wordmark uses Brandon Grotesque.
---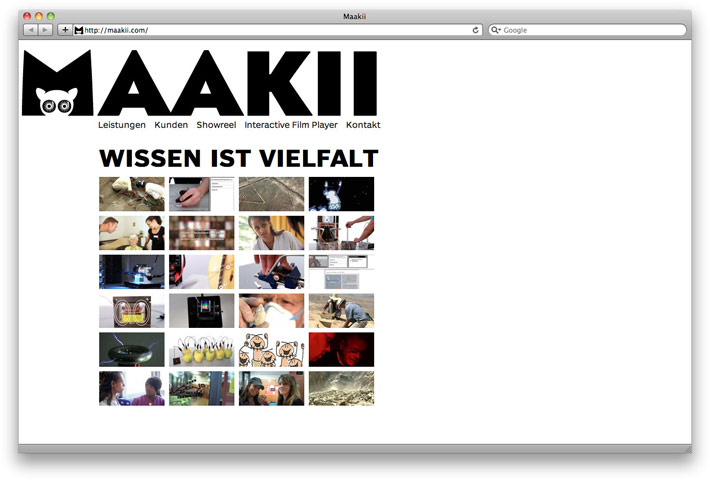 maakii.com, website of media producers Maakii has been expanded and improved. Its stark but simple, black-and-white identity relies heavily on typography and simple interaction patterns so as to make the company's colorful motion work really stand out and shine. Type: BentonSansRE via Webtype.
---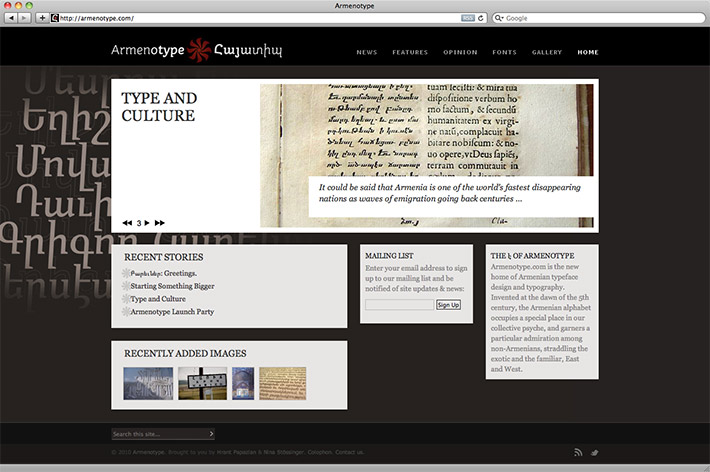 armenotype.com is a new website dedicated to the fascinating –and too often overlooked– subject of Armenian typeface design and typography. This is a self-initiated and non-commercial project; with my project partner Hrant H. Papazian in charge of content, I have designed and built the site, which will continue to evolve and expand.
---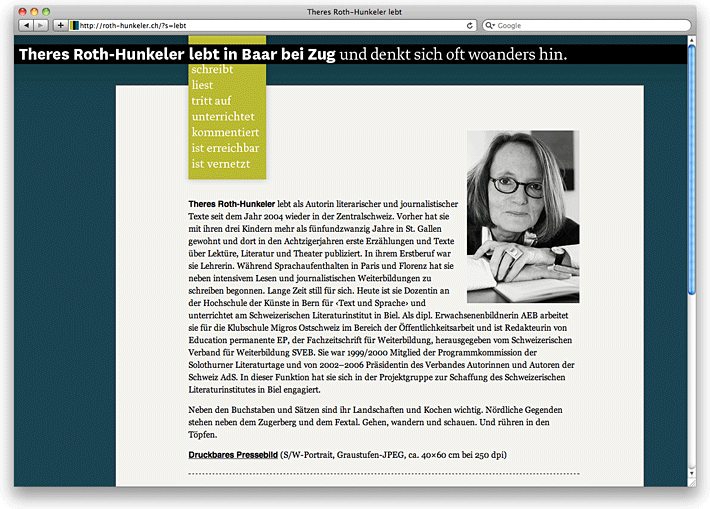 roth-hunkeler.ch The website for the Swiss writer Theres Roth-Hunkeler strives to be simple without seeming shy; smart without being boring; text-heavy without getting too dense and cluttered. The theme of narration is introduced by the navigation, by the menubar that's made up of verbs – as incomplete sentences waiting to be completed on click (and then double as page titles). I have developed the design as well as the implementation.
---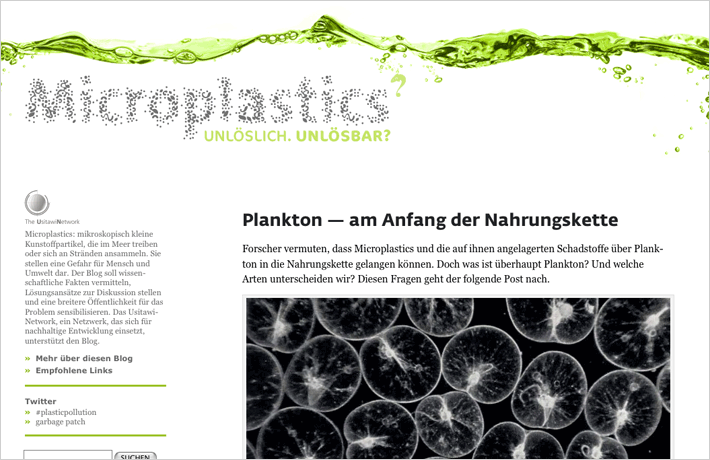 microplastics.ch A new [German-language] blog about plastic pollution mainly affecting the oceans, where the idea is casting not so much blame but light: on the backgrounds of the matter, possible causes and potential solutions, and the more complex connections that usually get lost between the headlines and catch phrases («garbage patch»). I have worked out the visual appearance of the blog as well as its implementation (on a WordPress basis).
---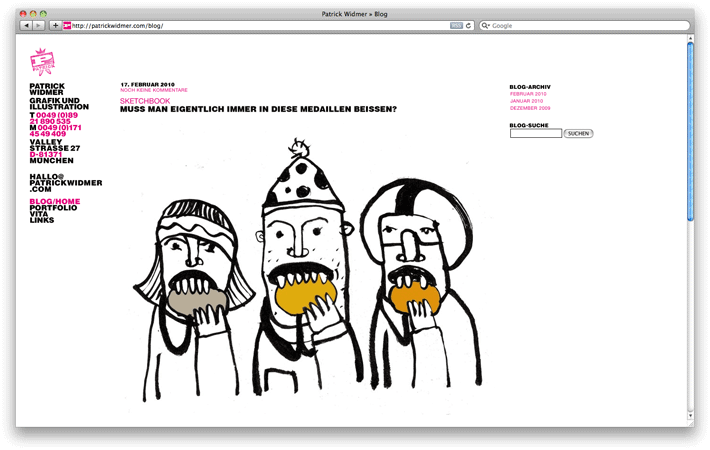 patrickwidmer.com Patrick Widmer – a graphic designer and illustrator from Basel, now based in Munich, Germany – uses his blog to showcase sketches, works and impressions. I have implemented his base design on a Wordpress basis.
---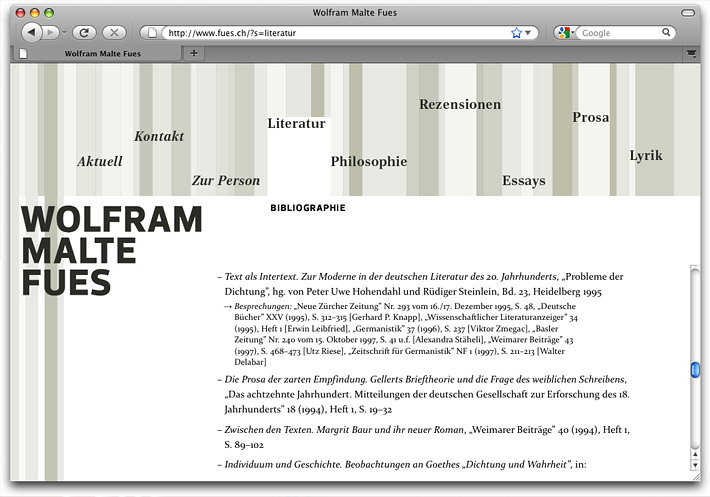 Wolfram Malte Fues This scientist/researcher/lecturer/writer wanted his website to be serious, but not boring – quiet and not too experimental, but with a smart little twist. After spending an engaging meeting drinking coffee and discussing bureaucratic German compounds, dummy text, and quantum physics, I came up with this grid based on the sequence of... wait, it's a secret! Anyway: Just like Fues's poetry, this pattern is designed to look good, even if you don't fully understand how it works.
---
Other sites
Maakii.com / Basel- and Cologne-based media producers
Reto Bieri / Musician
Lektorat Literatur / Independent editing services for aspiring writers
Domaine Nussbaumer / Local winery [team project with Lukas Loeffel]
Sabine Kronenberg* / Basel-based independent editor
Literarisches Forum Basel* / Literature events in Basel
[* technical implementation only]
---